70% of M&A Deals Fail To Meet Expectations


How M&A Deals Are Like Marriages
and What To Do About Failed Expectations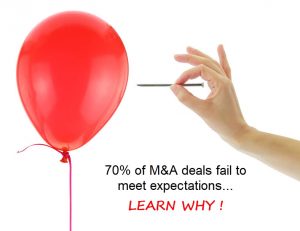 According to multiple studies 70% of M&A deals fail to meet expectations.
Other statistics show that the divorce rate in marriages in the United States approaches 50%.
But despite these statistics, people continue to get married and businesses continue with mergers and acquisition.
Join ACG Seattle on Wednesday, March 13th as we hear our panel discuss a variety of issues related to due diligence through post-closing activities and how to improve the odds of M&A success.
Panel Features:
Andy Dale, Montlake Capital, Managing Director

Cameron Hewes, BMO Capital Markets, Managing Director- Mergers & Acquisitions

Al Davis, Revitalization Partners, Principal

Forrest Didier, Next Level, Executive Team Member
Moderator:
Bill Lawrence, Revitalization Partners, Principal

Wednesday, March 13, 2019
Washington Athletic Club
Crystal Room (3rd Floor)
1325 6th Avenue – Seattle, WA 98101
5:00 – 6:00 pm:  Networking Reception
6:00 – 7:30 pm: Program
For more information or to register for the March event, please visit ACG Seattle.
Validated parking at the WAC Garage.