Taking a Break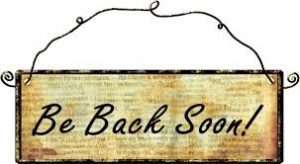 Over the past number of years, Revitalization Partners has taken the month of August away from our semi-weekly blog.
This year, however, with the Covid-19 issues, moving from our Seattle office to coordaining working from home and making certain that we helped our clients who were also going through similar changes, it appears that the month of July got away from us as well.
We are announcing a slightly longer vacation from our blog this year and our plan is to be back in September. All of us at RP wish you and your families an enjoyable and safe summer and are looking forward to resuming our writing in September.
All the very best,
The RP Gang

Revitalization Partners specializes in improving the operational and financial results of companies and providing hands-on expertise in virtually every circumstance, with a focus on small and mid-market organizations. Whether your requirement is Interim Management, a Business Assessment, Revitalization and Re-engineering or Receivership/Bankruptcy Support, we focus on giving you the best resolution in the fastest time with the highest possible return.