Change You Should Believe In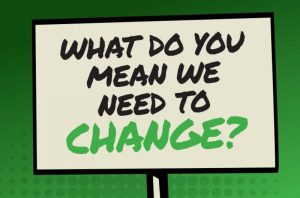 There have been numerous articles and books written about organizational and change management over the years.
These publications are typically focused on helping companies understand how to identify and manage change when it is required.  
It's no secret that every company must make changes frequently to achieve its short or long-term goals.
MANY DOCUMENTED CASES …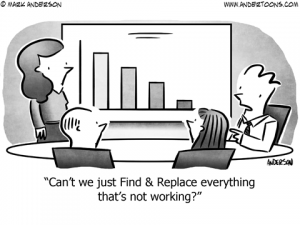 There are many documented cases where companies have successfully managed change and made a transformation from being a dinosaur to becoming a new and innovative company.
Take IBM for instance who was traditionally hardware focused and successfully made the transition to become a service and cloud-based computing company. 
Or Apple, that successfully made the transition from personal computers to handheld devices and has been widely successful to date.
However, not all companies are successful in taking the necessary steps to manage change. In fact, many companies attempt change and fail.
A study, conducted by Professor John Kotter of the Harvard Business School, found that over 75% of the companies attempting to make changes in their business failed.
8 CRITICAL STEPS …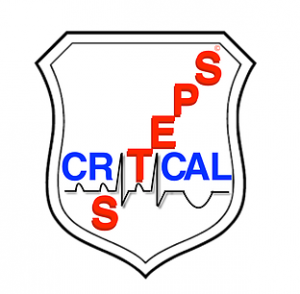 The study noted eight critical steps for managing change and how missing any one of those steps could lead to failure.
The first and most important step that was identified is creating a sense of urgency for change. 
If this critical step is not reinforced consistently throughout the process, then the chance of failure is significantly higher.
Revitalization Partners has worked with many companies over the past 15 years and have helped manage change in a multitude of different situations. In most cases we encounter, significant change is required quickly, just to survive.
In other situations, we have helped companies make the necessary adjustments required to deal with changing market conditions.
And in other projects, we have helped private equity firms recognize the need for change by conducting operational due diligence for companies they are planning to acquire.
MANAGEMENT OFTEN VIOLATES THE 1st STEP …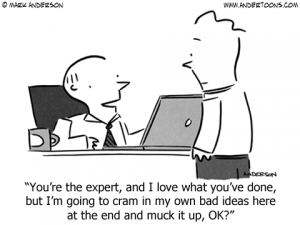 Working with companies that require change, just to survive, is a particularly interesting situation.
First of all, we find that management have has often violated that first step "Creating a Sense of Urgency". 
While the sense of urgency is heightened when a company is in trouble, the realization of the need for change should have happened much earlier, when change could have been managed in a more orderly fashion.
When we are asked to help companies in this situation, the factors that must be changed must be rapidly assessed, the execution of those factors prioritized and work with management to quickly execute changes that are required for the company's survival. 
IN ALMOST EVERY CRISIS SITUATION …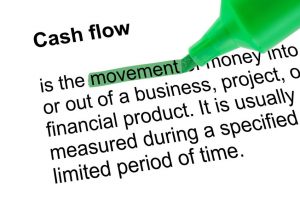 In almost every crisis situation there is a lack of sufficient cash flow to manage the business and pay the liabilities when due.
This invariably includes not being able to make payments to their bank when due, and/or that they have violated numerous covenants, that then results in the bank restricting their borrowing capacity.
A situation we recently helped refinance came about as a result of the current lender asking them to pay off their loan.
The company's revenue had significantly declined over the previous year and they were past due with many vendors.
WE HAD TWO OBJECTIVES …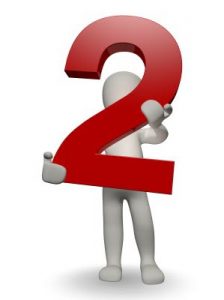 We approached the project with two objectives; to create options to improve cash flow, while also finding a non-traditional lender that would payoff the current bank. 
We found the company had significantly more inventory than required to support their business and helped the company make the necessary adjustments to reduce inventory and create additional cash flow.
That factor along with significant expense reductions allowed the company to survive long enough for us to find a new lender that paid off the former bank and gave them significantly more borrowing capacity than they had before.
This is a clear example where management lacked a sense of urgency to recognize changes that were necessary for survival until it was almost too late.
LACK OF COHERENT LEADERSHIP …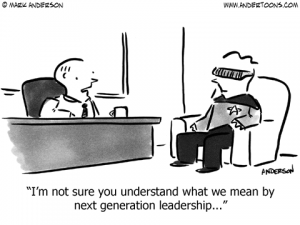 In a different situation we were asked to help a company make changes related to lack of leadership at the senior management level. 
While the company was profitable, it lacked a coherent management structure required to achieve the level of profitability that was required by its board of directors.  In this situation, we were asked to take control of the company and make the required changes to achieve the company's objectives.
We found that senior management had a sense of what was required to improve the company's performance, however they did not have the discipline or leadership skills required to execute changes.
In this case, we were able to take control and execute the necessary changes required to improve efficiency and impose a consistent set of disciplines.
IN ALMOST EVERY SITUATION …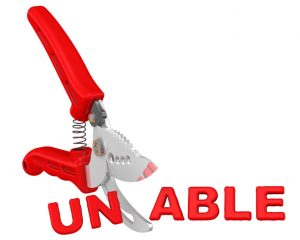 In almost every situation where we have worked with companies to manage change, most of the issues had already been identified by management, however they did not, or could not, make the changes required to deal with the problems facing the company.
We were able to help management more clearly identify changes that were required and, with a sense of urgency, helped them rapidly execute changes required for improvement.
THE MAJOR TAKEAWAY IS …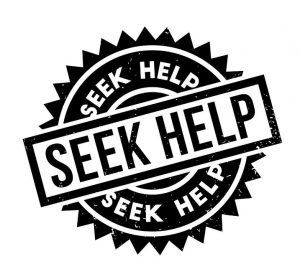 The takeaway from this is that every company needs to be proactive in making changes.
Not every company, however, is capable of effectively making changes proactively.
If there is any question about executing change you might consider asking for help from experts in this field.
The survival of your company may depend on it!
Revitalization Partners specializes in improving the operational and financial results of companies and providing hands-on expertise in virtually every circumstance, with a focus on small and mid-market organizations. Whether your requirement is Interim Management, a Business Assessment, Revitalization and Reengineering or Receivership/Bankruptcy Support, we focus on giving you the best resolution in the fastest time with the highest possible return.