Are Companies Too Optimistic?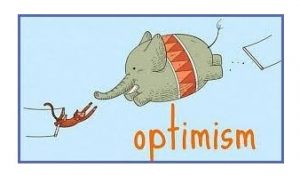 There have been numerous articles written over the past year about how great things are going for companies and the economy.
Politicians are touting economic growth over the past couple of years that has been at historical levels. Job growth has averaged over 200,000 per month for the past year, average hour earnings grew 3.2% in April and inflation and interest rates continue to be low.
A recent Bank of America survey of more than 1500 small businesses, the ones most vulnerable to economic downturn, revealed that small business owners' outlook for their business remains strong.
The majority of the participants are planning to expand their business, take on more loans and are hiring more people.
THE QUESTION IS …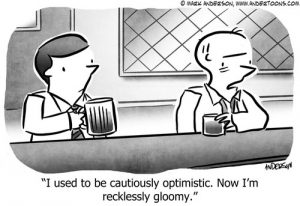 So, the question is, "Are Companies Too Optimistic?".  There are many indicators that would suggest that the current high level of optimism is not warranted.
In fact, those indicators reflect that business owners are not heeding some of the warning signs that good times may not last as long as they expect.
For example, in the same Bank of America survey, business owners indicate their confidence in the national and local economy weakened over the past six months.
Top economic concerns have risen for health care costs, interest rates, stock market, consumer spending and the political environment.
A PERPLEXING DICHOTOMY !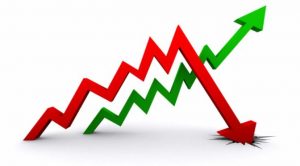 On one hand, small business owners are acting like things are great and moving forward with expansion plans, and on the other hand they are concerned about the economy for a variety of reasons.
This dichotomy is perplexing given that a number of companies are doing nothing to prepare for a potential downturn. At least a third of the companies surveyed have no plan to deal with a catastrophic event or an economic downturn.
A number of economic indicators suggest that small business concerns about the economy are well founded. For example, a recent article in WWD, featured the headline, "Today's Consumer: Cash Strapped, Loaded with Debt and Living Beyond Their Means"!
The article acknowledges that recent economic data remains strong, however several top economists said, "they don't expect the engine to run at this pace for the rest of the year".
CONSUMER IS 2/3 OF USA ECONOMY …
This premise is supported by the fact that credit card debt continues to increase, and total household debt stands at $13.5 trillion, an all-time high.
Given that consumers represent two-thirds of the U.S. economy and are a key driver of the current expansion, this data presents a significant indicator that the "good times" may end sooner than small business owners think.
Another significant threat to small businesses is the impact of tariffs.
A recent CNBC article states, "Wall Street is beginning to believe the trade war will last a lot longer and hit the economy a lot harder than it did just a few weeks ago and if the trade war persists, strategists see an impact on second half corporate profits and a bigger hit on the global economy".
THE IMPACT OF TARIFFS …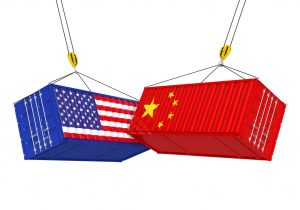 In our practice, we have certainly seen the impact of tariffs on companies that are dependent on import or raw materials from tariff impacted countries.
They have been forced to attempt to pass along the increases to their consumers and in some cases had to absorb the extra costs which has negatively impact their cash flow.
The issue of preparing for a downturn in the economy has been a consistent theme of Revitalization Partners' blogs over the past couple of years.
Having said that, we sometime hear from prospective clients, that they believe things will continue to get better and an improving economy will help them resolve their current business problems.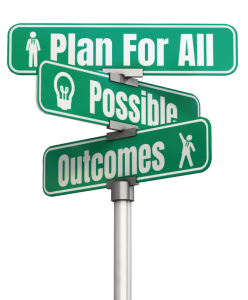 OUR ADVICE IS …
Our advice is, that in spite of their "Optimism", companies need to proactively plan for managing their downside risk and take the necessary steps to mitigate the downturn that is eventually going to happen.
And, if a business owner is not sure how to go about putting together an actionable plan, they should consider asking for outside help to make sure they are taking the proper steps to ensure their company can weather the coming storm.


Revitalization Partners is a Northwest business advisory and restructuring management firm with a demonstrated track record of achieving the best possible outcomes for our clients. And now, we've written a book to help our readers understand the issues facing their businesses. You can find this compilation of our business thoughts at: https://revitalizationpartners.com/we-could-write-a-book/ or on Amazon.
We specialize in improving the operational and financial results of companies and providing hands-on expertise in virtually every circumstance, with a focus on small and mid-market organizations.
Whether your requirement is Interim Management, a Business Assessment, Revitalization and Reengineering or Receivership/Bankruptcy Support, we focus on giving you the best resolution in the fastest time with the highest possible return.