"We have met the enemy and he is us" – Pogo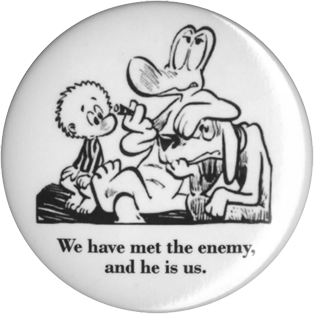 In a study conducted by the Business Literacy Institute, the average business owner and executive scored only 38% on tests of financial literacy.
Obviously this lack of knowledge can be devastating to the success of the business and even to the existence of the company.
Some owners and executives are willing to admit their knowledge is limited and get outside assistance, improving their odds of building successful businesses.
But an unfortunate percentage of business people, including some we've come in contact with, believe they know more than they actually do, so the risk to their companies is compounded.
In our practice, we often find the latter type of owner or executive.   Knowing a great deal about the technical side of their business and often very conversant with their market, they believe that they understand all of the financial aspects as well.


We Commonly Find ….
Looking at some of these beliefs, we commonly find attitudes like:
"Even though I'm current on my payments, my bank put me in special assets. I'll just get another bank." 
With low interest rates, banks tolerance for risk decreases as well.  Some of those covenants in your loan document become very  important to the bank. Items such as cash flow and working capital coverage ratios become an important measure of risk to the bank. Debt to equity is another. Prospective banks will look at the quality and risk of the loan as well as the payment history. There is a lot of capital available these days so while getting another lender probably will happen; it's not a slam dunk.
"If things get too tough, my attorney tells me I can file bankruptcy."
By bankruptcy, most business owners are talking about Chapter 11. They view it as restructuring their debt while still owning their business.  Let's look at the statistics:
About 1/3 of all Chapter 11 filings are successful.

The others either get dismissed or converted to Chapter 7.

And the average Chapter 11 case takes a full year to get resolved.
Financing is a real issue. Not only does the company have to have the ability to pay all of the administrative expenses of the case, but under the 2005 changes to the bankruptcy laws, those administrative costs now include claims equal to the value of "goods sold in the ordinary course of business and received by the debtor within 20 days before the bankruptcy was commenced."  It's for these reasons that there are very few successful Chapter 11 filings without debtor in possession (DIP) financing. 
"Maybe I should sell. I've heard it's a good time and I've even had written expressions of interest" 
It is a good time to sell a business, just as it's a good time to borrow money.  Both equity capital and debt are available to buyers and there is a shortage of quality companies for sale.


But the operative word here is "quality".  
In the M&A world, the difference in what is paid for a performing company and one in financial distress is substantial.  It's important to remember that any written expression of interest or a "term sheet" is always subject to due diligence.  And while it may happen; we've never seen a buyer determine that a company is worth more after due diligence.


In almost every case…
In almost every case, the due diligence process reduces the price. Why? Because issuing a term sheet puts the competition on hold and allows the buyer to really dig into the details of the company.  And, like any other complex sale, there is always a difference between the sales pitch and reality.


The important thing to remember is …
The important thing to remember is that no one person can be an expert on everything. Good financial management takes training, experience and good judgment. Almost any company of any size needs the best CFO or Controller the company can afford. And in certain circumstances, don't hesitate to bring in outside help if necessary.
As the saying goes: "Good judgment comes from experience and experience comes from bad judgment". When dealing with your company's money, you always want to be on the right side of the experience curve.