It's Too Expensive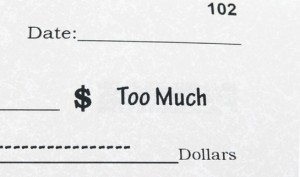 A few days ago a quote popped up on my LinkedIn account.
It stated: "If you think it's expensive to hire a professional, wait until you hire an amateur."
One of the comments that engendered was a statement that too many people are dealing with "other people's money" and that has led to 2nd rate people hiring 3rd rate people and amateurs hiring amateurs. Only the enlightened recognize professionalism and the value of experience.
Around the same time those comments were appearing in my inbox, a close friend was describing a personal situation in which it was relatively clear that he needed a good attorney and one with some specialized experience. When that was pointed out to him; his comment was: "Only the lawyers make any money and besides, they're too expensive."
Compared To What?
Being in the restructuring and turnaround profession, we hear comments like that a lot. And although we don't say it to a potential client directly, our first thought on hearing something like that is: Compared to what? A competitor? Going Bankrupt? Having to pay on a personal guarantee? Losing your business? Not recovering on a loan?
We know attorneys and other professionals hear this as well. And while, in some situations, given how serious they are, we'd like to laugh given the alternative, what we try to do is reroute the situation to a discussion of Return on Investment.
This Should Be The Focus …

In business, that should really be the focus of any money being spent on almost everything.  What is the return I'm going to get on that expense?  Whether it's hiring a professional or an employee; spending money on marketing and advertising or buying a piece of equipment. One way to look at it is to ask:
What happens if I don't do this? If the answer is acceptable, then don't spend the money.

If it's not, then not only should you take action, but take the action that offers you the absolutely best chance of success.
In Professional Services there are a lot of players. Any number with MBA's CPA's, JD's etc. For most companies no decision may be more crucial than hiring the restructuring manager or business attorney. And often the decision has to be made at the worst possible and most stressful time. One when every dollar is the lifeblood of the company.
How Can You Be Certain? 
So, with all of those degrees out there, how can you be certain that you are getting a professional rather than an educated amateur. Invest the time to discuss the background of the people you're considering working with. Experience and proven track record is the most important credential. A candidate for the assignment you have in mind should be able to produce a portfolio of success stories and satisfied clients.
Ask around. Most successful professional service providers are well known to bankers, attorneys, accountants and financial advisors. It's not only having references, but the quality of those references that's important.
Do They Have Both ?

In addition to being a successful services provider, do the people you're considering have both strategic AND management skills. In the restructuring profession there are a lot of people who have experience "crunching the numbers". But do they have the management background to temporarily lead the organization where it needs to go and at the rate it needs to go there. Listen for the background stories that outline real "hands on" experience, interviewing and negotiating skills.
Most Of All …

Most of all, listen for the background stories that outline a real return on investment. Whether it's saving a business, getting the money back on a loan, saving an investment or sometimes getting out while minimizing personal loss; the most professional among service providers will be able to describe their experiences in ways that give you confidence.
And when you have that initial thought that "It's too expensive" , always ask yourself the real cost of the alternative.
Our New Year's wish for you is that your organization won't have a crisis in 2014. But if you do face one in the coming year, we wish that you elect to resolve it in the way that offers the best chance of success in 2015.